The processing line is a compact unit which can continuously produce various kinds of hard candies under a strict sanitary condition. It is also an ideal equipment which can produce out good quality products with the saving of both the manpower and the space occupied.
PLC /computer process control available;

An LED touch panel for easy operating;

The production capacity is 120,240,480kgs/h(based on 4.0g mono candy ) or more;

The contacting food parts are made of hygienic Stainless Steel SUS304;

Optional (mass) flowing controlled by Frequency inverters;

In-line injection, dosing and pre-mixing techniques for the proportional addition of liquid;

Dosing pumps for the automatic injection of colors, flavors

and

acids;

One set of extra jam paste injection system for making fruit jam-center filled candies(optional);

Use automatic steam control system instead of the manual steam valve which control a stable steam pressure supplying to the cooking;

Moulds can be made according to the candies samples provided by the customer.
Main Technical Parameters
Model
GD150
GD300
GD450
GD600
GD1200
Production capacity   kg/h
120~150
250~300
350~450
600
1200
Max. of the product      g
6
6
6
6
6
Speed of stroke        n/min
55~68
55~68
55~68
55~68
55~68
Steam consumption kg/h
250
300
400
500
1000
Steam pressure     Mpa
0.2~0.6
0.2~0.6
0.2~0.6
0.6~0.8
0.6~0.8
Electric power needed
18kw/380V
27kw/380V
34kw/380V
263kw/380V
85kw/380V
Compressed air consumption
0.    2mP3P/min
0.    25mP3P/min
0.    3mP3P/min
0.5mP3P/min
0.5mP3P/min
Compressed air pressure
0.4-0.6Mpa
0.4-0.6 Mpa
0.4-0.6Mpa
0.8~1.0Mpa
0.8~1.0Mpa
Conditions needed for the cooling system:
1.Room temperature(℃)
20~25
20~25
20~25
20~25
20~25
2.Humidity (%)
55
55
55
55
55
Gross weight       Kgs
3000
4000
4500
5500
8500
The Machinery to Produce Hard Candy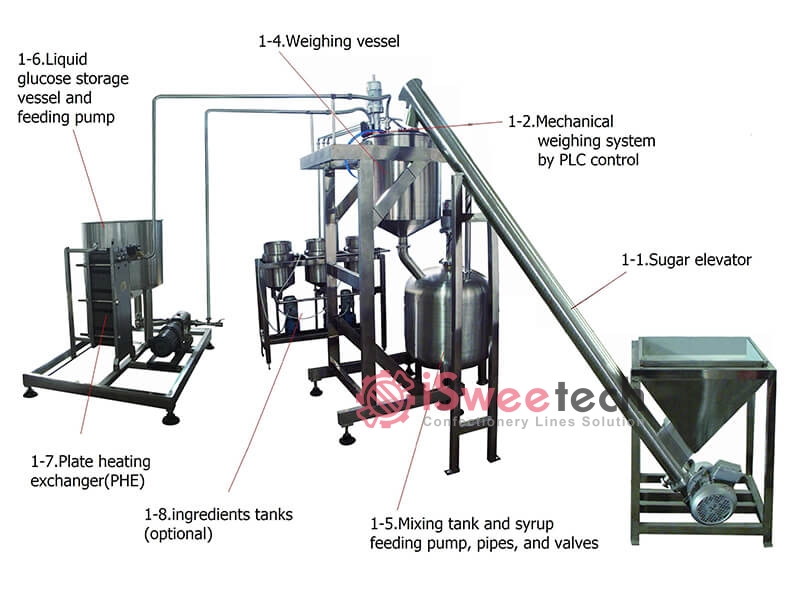 Auto-weighing system (COOLMIX)
Auto-weighing system-AWS COOLMIX offers automatic weighing , mixing and feeding of raw materials with inline transportation to one or more cooking units, without heating or pre-dissolving.
Liquid Glucose Storage
Liquid glucose storage vessel and feeding pump
Food standard Sus304 made
Hot water warm –keeping
Volume:1000L
Double jacket
Rapid Dissolving System
RDS means rapid dissolving system. The whole pre-cooking process is very short, the syrup will be no burnt-out under a relative low temperatur. The syrup is clear and transparent. That is the core of making final good quality products. It is an energy saving dissolving.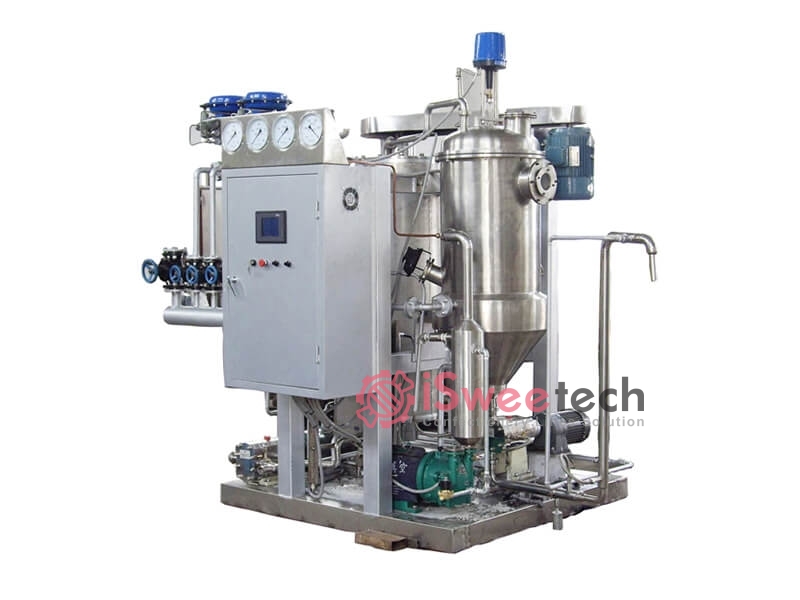 Continuous Flash Chamber Vacuum Cooker
Installation for carefully controlled and continuous production of high boiled sugar masses based on a two-phase working cycle, cooking and vacuuminizing.The plant offers high flexibility in producing different sorts of hard candies
Dosing and Mixing Unit
Accurate metering system with pluger type pump driven by a common variable speed unital for the injection of the liquid additives(flavor, color and acid), the additives are thoroughtly mixed into the cooked mass by jacket stainless inline mixer; in FCA system, it ensures that the end product will always be of a consistent and high quality. Compact design, and fully qutomatic operation.
Depositor and Cooling Tunnel
The unique design is compact and simple, which can reduce the movement inertia and weight of depositing head. Thus is can achieve higher the depositor's running speed to maximize output capacity; the machine's running is much smoothe and reliable; the position location is accurate; a repeatable operation is accurate; continuous process for minimal product wastage.
PLC Controller
Full PLC control and touch screen provide full process operation;
Recipe managerment and alarm handling;
Accurate control of the product dimensions and weight.
Molds
Aluminum with teflon coating /silicon made
Mould size:320x74mm
2D or 3D moulds are available