The production line is a fully automatic complete plant for making different kinds of die-formed hard candies.
Main Technical Parameters
Model
TG500
TG1000
Production capacity
500kg/h
1000kg/h
Weight of Candy
Max 6g
Max 6g
Steam consumption kg/h
500kg/h
750kg/h
Steam pressure
0.8-1.0Mpa(8-10bar)
0.8-1.0Mpa(8-10bar)
Electric power needed
50KW
75KW
Conditions:
1.Room temperature
20~25℃
20~25℃
2.Humidity (%)
55%
55%
Length of plant
Approx 25m
Approx 30m
The Machinery to Produce Lollipop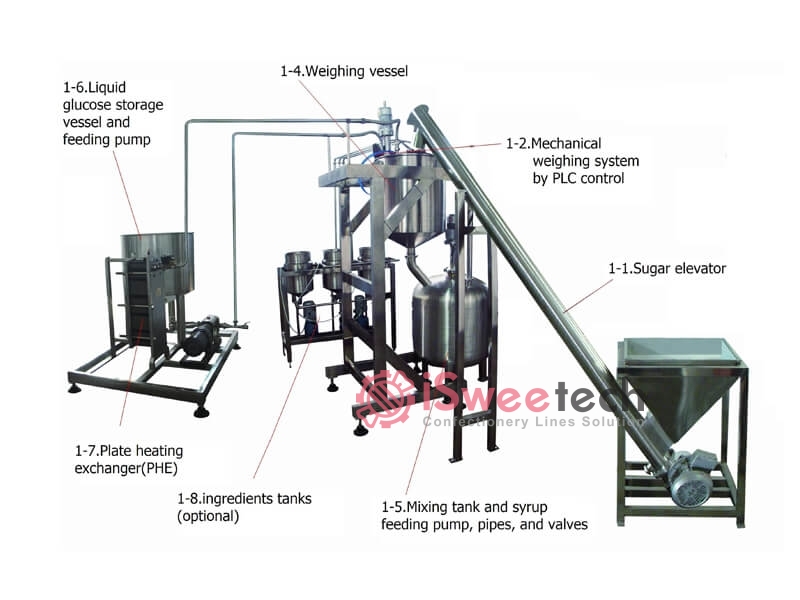 Auto-weighing system (COOLMIX)
Auto-weighing system-AWS COOLMIX offers automatic weighing , mixing and feeding of raw materials with inline transportation to one or more cooking units, without heating or pre-dissolving.
Liquid Glucose Storage
Liquid glucose storage vessel and feeding pump
Food standard Sus304 made
Hot water warm –keeping
Volume:1000L
Double jacket
Rapid Dissolving System
RDS means rapid dissolving system. The whole pre-cooking process is very short, the syrup will be no burnt-out under a relative low temperatur. The syrup is clear and transparent. That is the core of making final good quality products. It is an energy saving dissolving.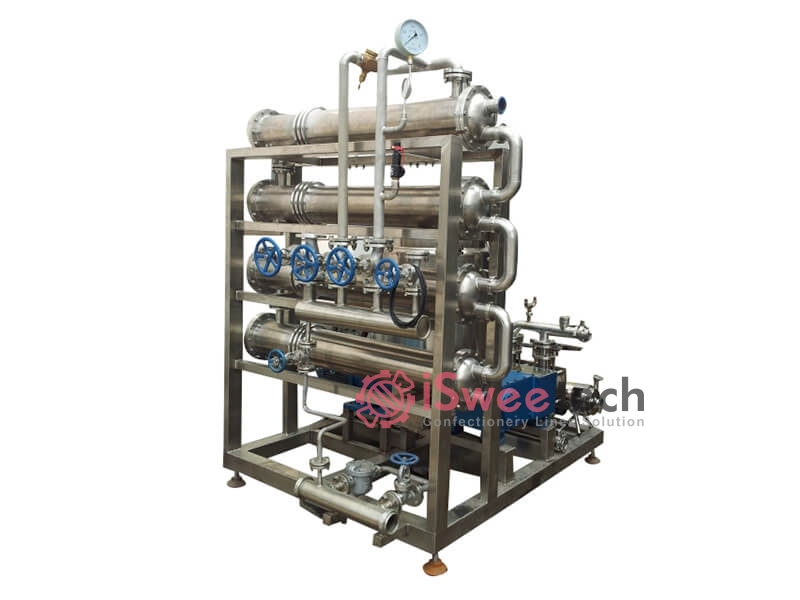 Pipe Cooking With Flash Vacuum Chamber(FCC)
The plant is comprises of cooker, flash-off chamber, feeding pump, discharge pup, vacuum system, and automatic steam control system. All the cooking parameters are controlled via a PLC controller. The mass are transported via the loading and unloading pumps controlled by frequency inverters…
Dosing and Mixing Unit
Accurate metering system with pluger type pump driven by a common variable speed unital for the injection of the liquid additives(flavor, color and acid), the additives are thoroughtly mixed into the cooked mass by jacket stainless inline mixer; in FCA system, it ensures that the end product will always be of a consistent and high quality. Compact design, and fully qutomatic operation.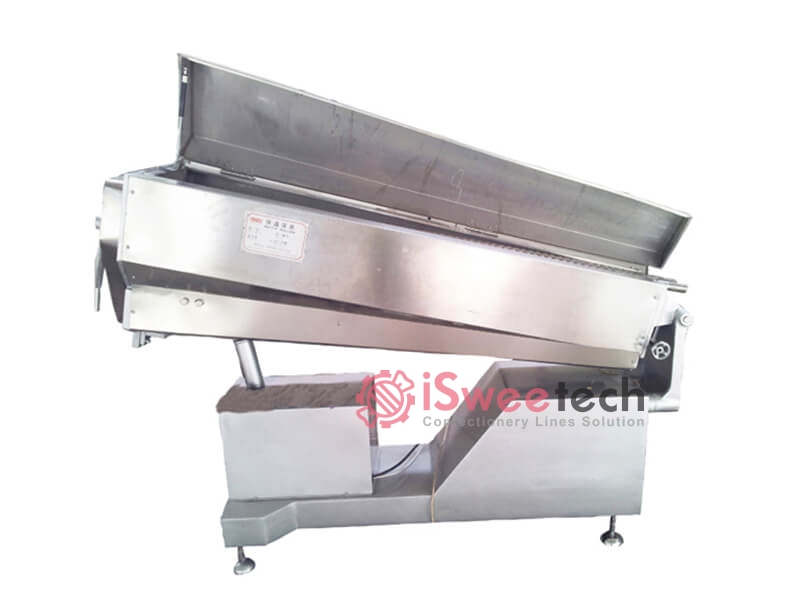 Batch Roller
Heater Power: 1.2KW
Motor: 0.75KW
Dimension: 3400×700×1400mm
Weight: 500KGS
Rope Sizer
Motor: 0.75KW
Dimension: 1010×645×1200mm
Weight: 320KGS
Uniplast Lollipop Die Forming Machine
The machine can make different sizes of ball-type lollipops, also can make the central- filling lollipops. It is stepless-speed adjusted, and combines the process of syrup auto-feeding, auto stick-insertion, lollipop forming and outgoing in one machine. It can be used for making different sizes of lollipops
Lollipop Die Mould
Made of high quality steel, long-shelf life;
High precision
TG PLC Control System
Full PLC control and touch screen provide full process operation. Recipe management and alarm handling; Accurate control of the product dimensions and weight.
Cooling Tunnel With Refrigerator
Cooling Layers: 3-7layers
Transporting belt speed: Max.5.5m/min
Speed of sieve plate swing: 76times/min
Power of convey motor: 0.5kw
Power of main motor: 1.5kw
Power of Compressor: 7.5kw