GDT series deposited tofee processing line is specially designed for continours production of various kinds of deposited toffees. It can produce two-color striped depositing, two color double layers depositing, central filling, one color toffee/caramel.
PLC /computer process control available for vacuum cooking;
Special caramel reactor to enforce the caramel flavor vacuum cooking;
An LED touch panel for easy operating;
A special designed de-moulding device and moulds guarantee the de-moulding of toffee;
Different shaped toffee can be made via change over the moulds;
Optional choice of extra chocolate paste injection system for making chocolate-filled toffees.
Main Technical Parameters
Model
GDT150
GDT300
GDT600
Production capacity    kg/h
Max.150
Max.300
Max.600
Max. of the product      g
7
7
7
Speed of stroke        n/min
25~30
25~35
25~35
Steam consumption    kg/h
100
300
500
Steam pressure        Mpa
0.2~0.6
0.2~0.6
0.2~0.6
Electric power needed
35kw/380V
45kw/380V
60kw/380V
Compressed air consumption
0.25mP3P/min
0.25mP3P/min
0.25mP3P/min
Compressed air pressure
0.4-0.6 Mpa
0.4-0.6 Mpa
0.4-0.6 Mpa
Conditions needed for the cooling system:
1)Room temperature(℃)
20~25
20~25
20~25
2)Humidity (%)
55
55
55
Gross weight            Kgs
6000
7000
8000
The Machinery to Produce Toffee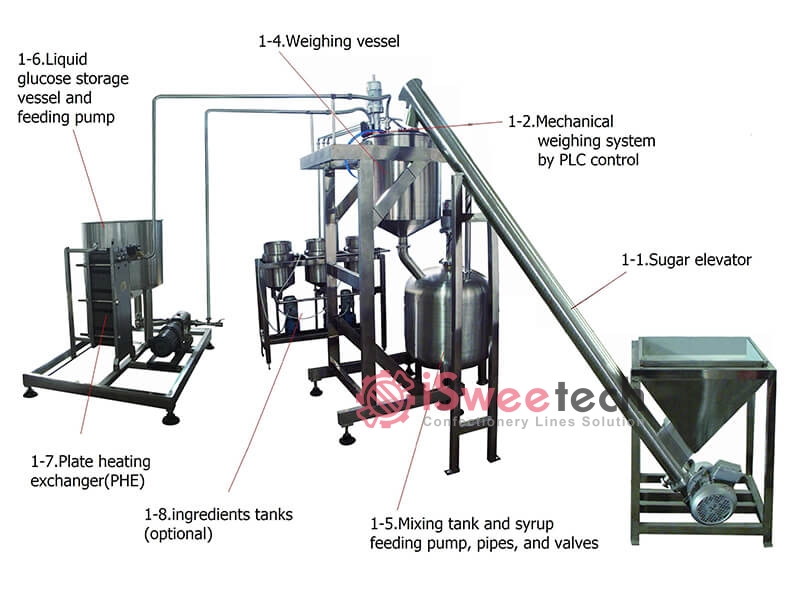 Auto-weighing System (COOLMIX)
Auto-weighing system-AWS COOLMIX offers automatic weighing , mixing and feeding of raw materials with inline transportation to one or more cooking units, without heating or pre-dissolving.
Automatic Toffee Cooking Equipment
Compact modular design;
Wide varies of the products;
Diversity in product density;
Moderate investment;
Easy and simple maintenance;
PLC control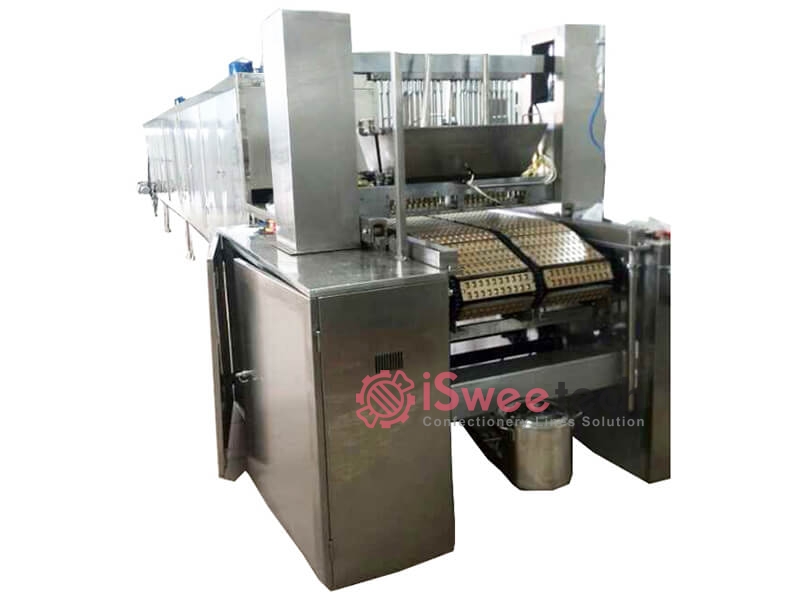 GDT Depositing and Cooling Section
Underband Servo-drive designed depositer: All drive components are mounted on the machine(underband) rather than on the depositing head;
The unique design is in compact and simple, which can reduce the movement inertia and weight of the depositing head, thus it can achieve higher the depositor's running speed to maximize output capacity;
Machine is hydraulic free, thus to avoid the risk of oil leakage onto the products;
Simple maintenance requirement;
Three axis servo control ensures the complete control over the depositing process
Dosing and Mixing Unit
Accurate metering system with pluger type pump driven by a common variable speed unital for the injection of the liquid additives(flavor, color and acid), the additives are thoroughtly mixed into the cooked mass by jacket stainless inline mixer; in FCA system, it ensures that the end product will always be of a consistent and high quality. Compact design, and fully qutomatic operation.
PLC Controller
Full PLC control and touch screen provide full process operation;
Recipe managerment and alarm handling;
Accurate control of the product dimensions and weight.
GDT Toffee Molds
Aluminum with teflon coating /silicon made
Mould size:320x74mm
Customized shape and weight, designed as per the customer's requirement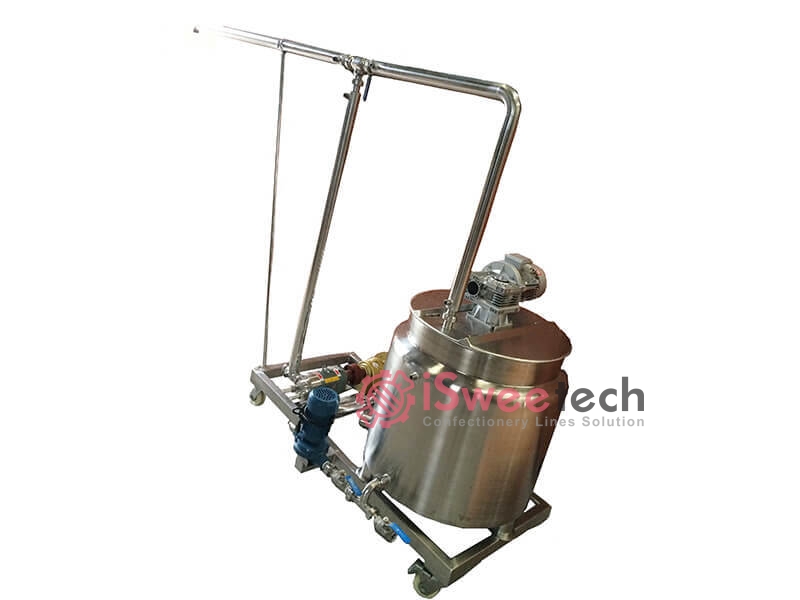 Fruit Jam Holding Tank And Pump, Pipes
Tank Volume: 150Ltr
SS Transfer pump
Electric Heating and temperature control
Motor: China
Material: SUS-304 made