JZM serie Marshmallow production Line is a complete plant for coninoursly producting various kinds of deposited cotton candies/marshmallow.
1) In the pre-mixer, all the ingredients to be dissolved and cooked.
2) Then the basic slurry is continuously pumped to a cooker till the final moisture level is reached.
3) After cooking, the slurry will be cooled.
4) Then the cooled "marshmallow base" is passed through the continuous aerator.
5) The product then be divided and injection with different colors and flavors.
6) The multi-color product is extruded ,and transported on a cooling conveyor for cooling down.
7) The conditioned marshmallows are dusted top and bottom with starch, or a mixture of both starch and icing sugar in a separate dust cabin; the product is cut to the required length here.
8) The dust cabin is kept under a strict control to prevent the "dust" spreading throughout the plant. The excess starch/sugar is removed.
9) Optional: The final is transferred to a chocolate enrobing machine for coating its surface with chocolate.
10) The coated products under cool down.
11) The final products are transferred to a packaging machine.
Main Technical Parameters
Model
JZM50
JZM120
JZM300
Production capacity    kg/h
70~100
100~150
250~300
Percentage of center-filling    %
0.3
0.3
20~30
Electric power needed
34kW/380V
35kW/380V
53kW/380V
Compressed air consumption
0.8mP3P/min
0.4mP3P/min
0.2~0.6
Compressed air pressure
0.6-0.8MPa
0.6-0.8MPa
0.6-0.8MPa
Conditions needed for  the cooling system:
1. Room temperature(℃)
20~25
20~25
20~25
2. Humidity (%)
45~55
45~55
45~55
Gross weight            kgs
7000
12000
15000
Total length of the line    m
20
25
35
The Machinery to Produce Marshmallow
Syrup Preparation System-Cooking
Batch wise cooker
Transportation pump
Hot water tank and water pump system
All the connecting pipes, valves, frame, etc
Syrup Preparation System-Cooling
Gelatin dissolving tank
Gelatin transporting pump
Gelatin liquid metering tank
Mixing & cooling tank
Transfer pump
Buffer tank
Transfer pump to the aerator
All the connecting pipes, valves, frame, etc
4 Color/Flavor Injection And Mixing System
It is an auto-blending system for the color, flavor, and acids which can produce out the stable-quality candy products.
Holding tank:4pcs
Volume of tanks:10L
Dosing pump:4
Sus304 made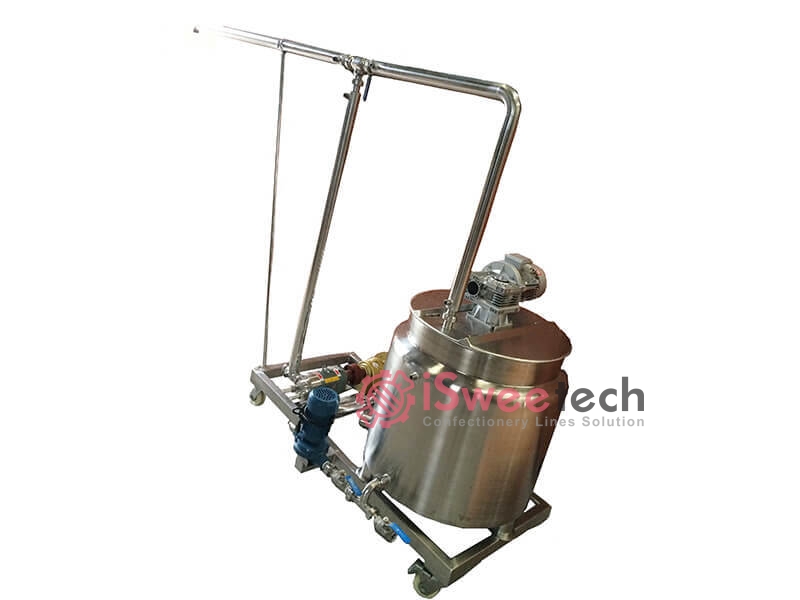 Fruit Jam Holding Tank And Pump, Pipes
Tank Volume: 150Ltr
SS Transfer pump
Electric Heating and temperature control
Motor: China
Material: SUS-304 made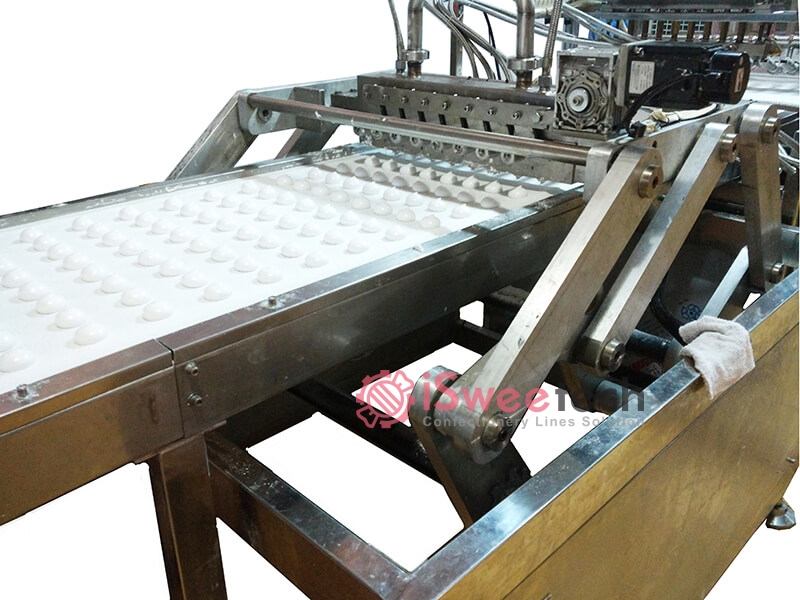 Marshmallow Depositor
Manifold depositor
Nozzles
Food standard Sus304
Motor drive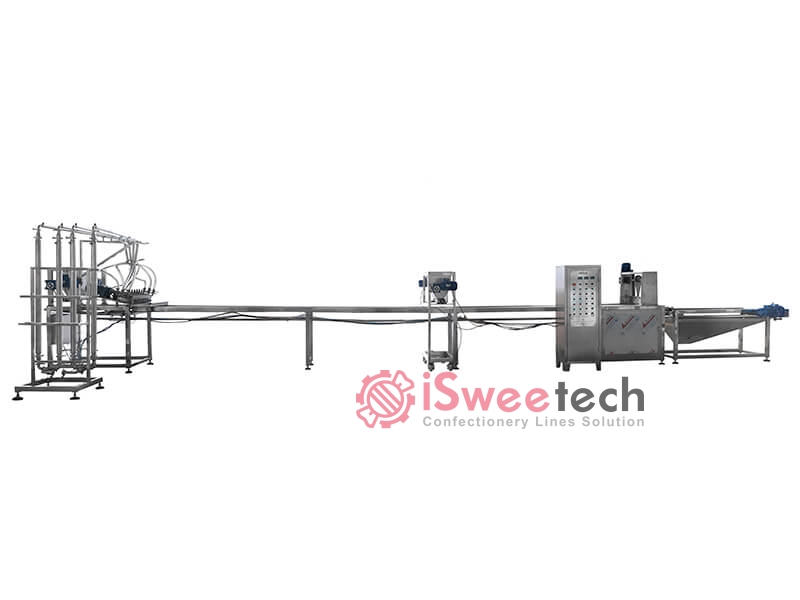 Starch Feeding & Vibrator Applicator
Food standard Sus304 made
Motor drive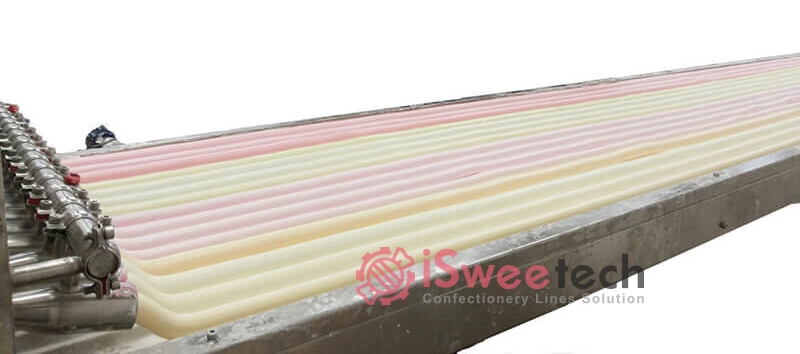 EM-Cutter
Food standard Sus304 made
De Starch Mesh Conveyor
Motor drive
Mesh SS wire
Food standard Sus304 made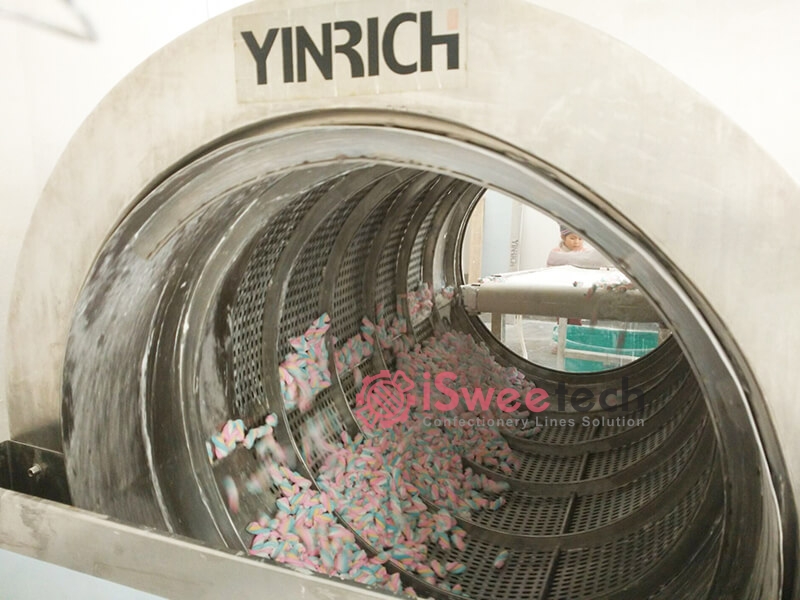 De-starch Drum
Rotating speed
SUS304 made
Motor drive
PLC Control System
Full PLC control and touch screen provide full process operation. Recipe managerment and alarm handling; Accurate control of the product dimensions and weight.