This line is an advance and compact moulding solution for the chocolate industry. It is comprised of activities of mould drying , depositing, vibrating, cooling, de-moulding, and transporting in one unit. And it is automatically controlled by a PLC. The special dosing head synchronizes hydraulic movements with mould drive chain and all aspects such as double-jacketed hopper, special stirrer, and the valve/pistons/dosing plate set. Automatic demoulding, mould heating and integrated controls and elements can also be incorporated. The plant can produce customized size chocolate coins. From A to Z turnkey lines.
iSweetech chocolate processing lines invested for remote maintenance:
◆Failure prediction.
◆Help you to solve your problems.
All these will be figure out in China by our systems.
Save your money and time.
Main Technical Parameters
| | |
| --- | --- |
| Model | CSD150 |
| Production capacity | 1-4T/8hours |
| Speed | 5M/min(adjustable) |
| Dia of coins | 30-35mm |
| Coin weight | 5-7g (customized) |
| Coin thinkness | 4-5mm (customized) |
The Machinery to Produce Chocolate
Sugar Powder Machine
This machine is suitable for material crushing by the industries of Pharmaceutics, chemical, and foodstuff etc.
This machine uses the relative movement between the active fluted disc and the fixed to impact, grind and crush the targe materials. The size of granules can be achieved by changing of the screen.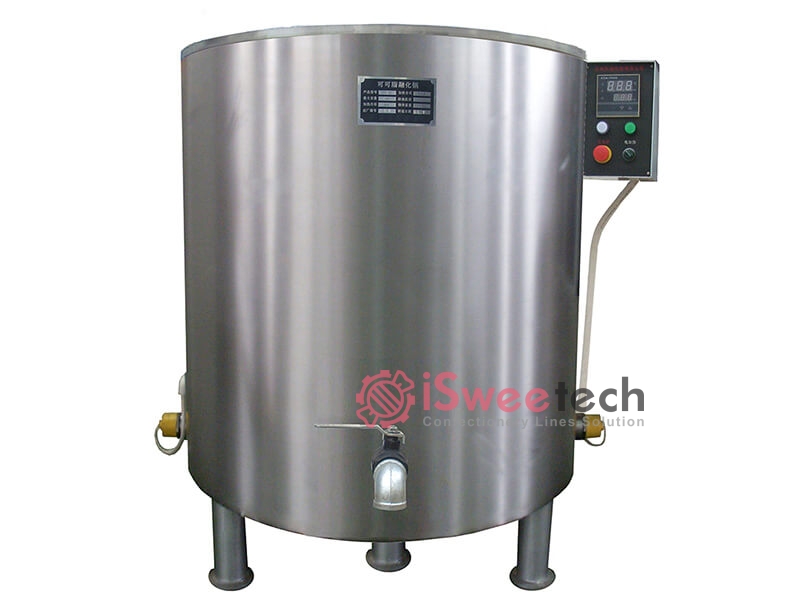 Oil Melting Oven
Model: MRY500
Capacity: 500KG
Melting Time: 1h-3h
Heating method: Steam heating/ electrical heating
Temperature:40-65℃
Overall size: Ø800*1150 mmUniplast Die Forming Machine
Conche/Chocolate Refiner
These Refiner / Conches are one of the essential equipment during the chocolate processing, supplied complete with master control console and power-assisted pressure control for increasing and decreasing of pressure. The machine is fitted with its own extract unit and the delivery end is fitted with a sampling valve and take off valve. This machine will produce high-quality milk, dark and white chocolates, pralines, truffles, compounds and many other products.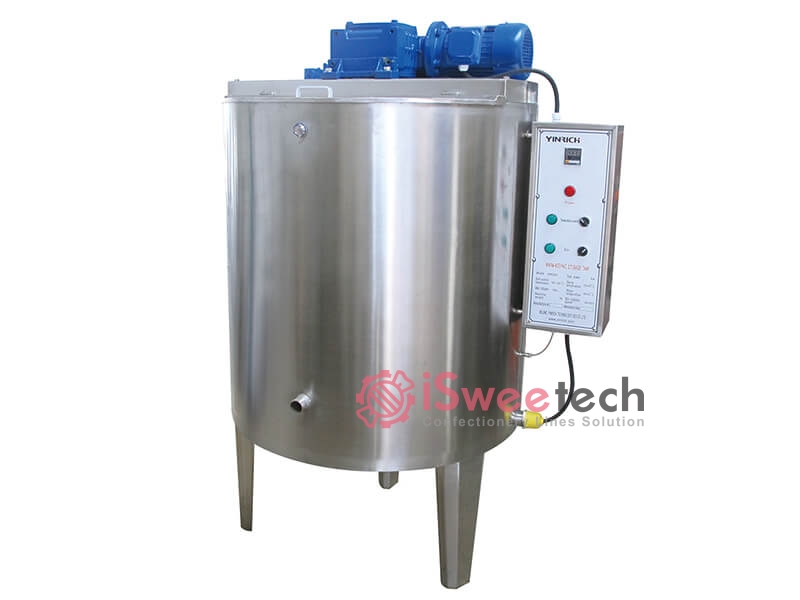 Chocolate Warm-Keeping Storage Tank
Chocolate warm keeping tank is one of the essential equipment during the chocolate processing. It is used for the warm –keeping storage of the refined chocolate paste, which can meet the technical requirement of the continuous chocolate production. The tanks not only have the functions of cooling, warming, and warm-keeping, but also can continuously make the stirring, which have the functions of de-gassing, de-odor, de-water, and preventing the separation of mass and fat.
Chocolate Depositing Plant With Cooling Tunnel
Vibrating time (length of the vibrating stage): 10~15s (1.5meter)
Cooling time: 12~23min
Cooling temperature: 0~5C
Empty moulds heating time (length of the mould heating stage):10~15s (1.6Meter)
Mould cooling time: 3~5s
PLC Contorller
Siemens | Panasonic | Omron brand PLC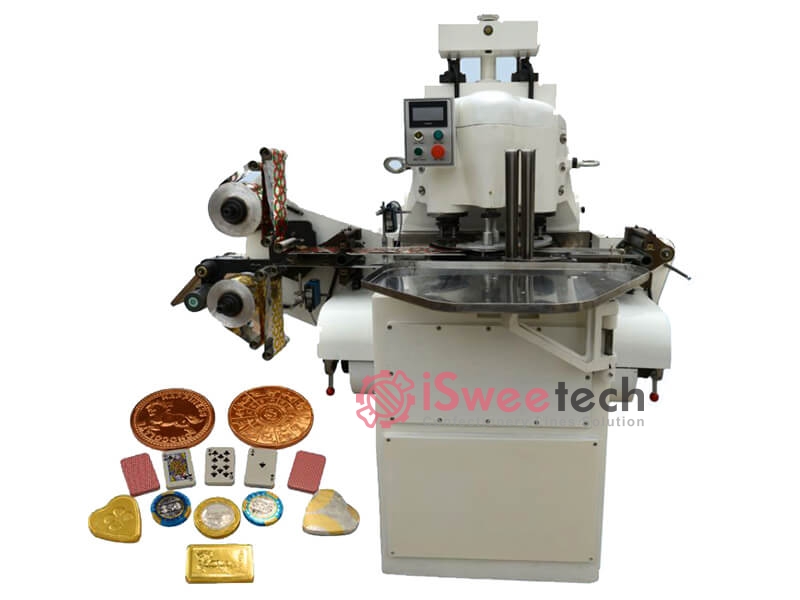 Chocolate Coin Wrapping Machine
Packing material: ±0.05mm aluminum foil
packing size coin shape: 22—39mm(double)
Production capacity: ±110 pieces/min
packing size coin shape: 40-80mm(odd)
Production capacity: ±60 pieces/min
Overall dimension: 1650X1450X2000mm (LXWXH)
Weight: 1600kg